Un hammam marocain traditionnel implique une combinaison de vapeur, d'exfoliation et de massage, qui peut aider à améliorer la circulation, à détoxifier le corps et à vous sentir rafraîchi et revigoré.
Meilleur Hammam Spa a Marrakech
Le traitement signature de MMC, notre hammam marocain traditionnel ultimement relaxant et délicieusement bénéfique apaise à la fois l'esprit et le corps. Fidèle à la tradition marocaine, lors de votre séance de vapeur privée, votre spécialiste du hammam utilise du savon noir biologique (à base d'olives broyées et d'huile d'olive) pour nettoyer, suivi d'une exfoliation corporelle revigorante à l'aide d'un loofa spécial pour lisser et nourrir la peau. Un masque corporel à la boue de Rhassoul biologique importé personnalisé est appliqué pour détoxifier et hydrater, vous laissant radieux et rajeuni.
Bienvenue dans notre spa à Marrakech, où nous offrons la meilleure expérience Hammam que vous puissiez trouver en ville ! Nos professionnels qualifiés offrent une gamme de services qui vous laisseront une sensation de fraîcheur et de rajeunissement. Nous n'utilisons que les meilleurs produits et techniques de qualité pour garantir à nos clients les meilleurs soins possibles.
Un gommage traditionnel complet du corps de 60 minutes qui utilise un gant exfoliant et du savon noir à l'huile d'eucalyptus. Ceci est suivi d'un masque de ghassoul aux sept plantes aromatiques. Cette procédure de hammam se termine par un doux massage beldi qui intègre des étirements et un rinçage à l'eau de rose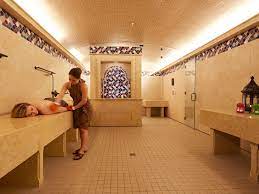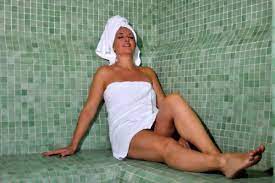 Hammam Gommage + Savonnage
Le hammam regorge de vapeur, de bassins et d'un parfum enivrant d'huiles essentielles. Les piscines sont divisées par sexe et chaque section a des préposés qui prendront soin de vous et frotteront tout votre corps avec un kessa jusqu'à ce que des couches de peau émergent.
Le hammam royal est essentiellement un hammam de style marocain avec un massage à la fin. Le hammam et le gommage sont conçus pour se débarrasser des peaux mortes et des impuretés, tandis que le massage vise à aider les clients à se détendre et à se détendre.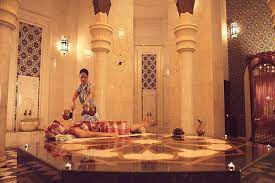 Chocolatier Marrakech
2023-02-09
My most favorite spas in Marrakech, especially their Hammam. The steam is just right and you feel fully detoxicated when you are back. The hair services, body massage, beauty services, you name It and find one of the best service there. Chaima, my hair stylist and Thanil who is now the manager, the best professionals to meet and talk, in addition to their excellent skills in their respective services.
Sabrina Beurell
2023-02-08
I went for eyebrows and a bit of face waxing and threading as well as pedicure. To start with, spa mille beaute did not have face wax, which I was ok with and the face waxing experience was fine. However, the beautician who did my eyebrows royally ruined them beyond repair to the point that both my eyebrows looked different from each other, and from thick eyebrows, I was only left with a thin crooked line. She also gave me several cuts in the area which are burning even two days after. The upperlip and chin were very badly done as well. She was nice enough to apologise but when I gave feedback at the billing, no one paid any attention and it was completely disregarded. The pedicure was good though.
Oh it was such a lovely experience. Once you get your pedicure done here you would not want to waste your money in the other salons. The price of the pedicure ranges between 60-120 dhs. In a normal up-class salon it costs much more than usual. The Spa MMC uses high quality skin sensitive products, and the time ranges between 60-90 minutes as per your preference. The room is spacious and smells delightful with comfortable high end seating arrangements. You will feel very special during the whole therapy. Get one soon!
The Spa is richer in amenities than any other in Marrakech. The unique spa might be of help for people with respiratory issues. Though scientific data isnt available in this respect. hammam is of good standard with locker facility and bath facilities. Ice cubes and cold shower available as well. Sauna is missing. The service is immepecable.
Elina Badiolat
2023-02-08
One of the best spa to do b2b massage in marrakech
Excellent service from the Spa marrakech - Massage center' girls . They were very attentive and good looking. Massage and taking bath was a good experience.!!!!
The Spa marrakech - Massage center's girls treated us very well and it had been a great experience in having massage. Really good massage center.!!!!
In this massage center the girls treated me great, how much affection, and the massage was incredible! I definitely recommend it.!!!
This my first visit in this city my friend told me about the Spa marrakech - Massage center. So after visiting this place I am so happy. Good place for Massage.!!!
Wonderful experience in Spa marrakech - Massage center. Well trained staff gave me massage in pleasant way. I heighly recommend it.!!!!